Increase the Productivity of your Business with ONE Simple Change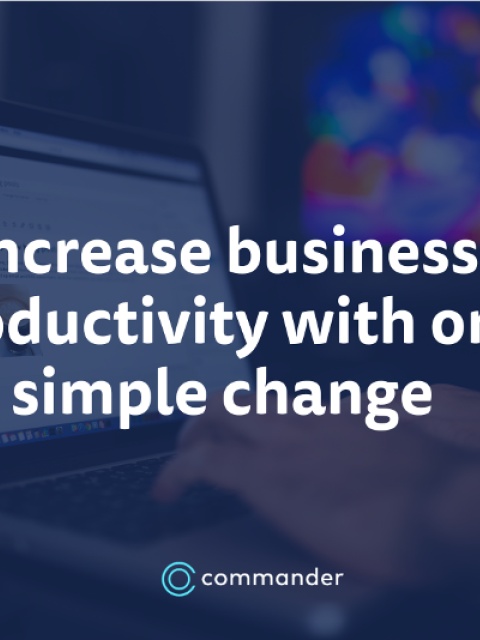 Productivity is essential for businesses to remain competitive, profitable, and successful, especially for small-medium-sized businesses where every 1% counts.
But what does that mean for your business, and what benefits can you expect from increased productivity?
An increase in profitability
Profit and productivity are closely linked, with increased productivity leading to reduced costs and higher profit margins. For example, more productive employees can produce more work in less time, resulting in lower labour costs. Additionally, improving efficiency can lead to lower materials, equipment, and resource costs.
Raising your competitive edge
Increased productivity equals increased investment in other business areas, including new customer acquisition, product innovation or upgrading systems. These factors can help you grow your business while also giving you an edge over your competitors.
A boost in employee morale
Studies have shown that a positive work culture leads to a more productive and energised workforce. So, when staff feel they are making a significant impact on their work and contributing to something they enjoy and take pride in, businesses can expect to see better productivity.
A slow and unreliable internet connection can impact business productivity.
We live in a world that operates at a faster pace than ever before. We expect instant access to information and uninterrupted streaming. Additionally, businesses need speed and reliability. With an increase in the adoption of digital technology, it is more important than ever for a business to have a fast and reliable internet connection to increase productivity.
Slow internet can also impact employee morale, as employees become frustrated with slow loading times or increased downtime. This can lead to decreased motivation and engagement and lower team productivity.
So, what's the solution? Upgrade your nbn® internet connection with Fibre Connect
If you're looking to boost productivity within your business, you need to look at upgrading from copper to fibre today with Fibre Connect. Fibre Connect is a FREE fibre upgrade program for eligible business customers. The program involves upgrading your nbn® connection to fibre optic cabling providing faster and more reliable internet connectivity than traditional copper-based internet connections. Copper lines are less reliable and durable than fibre optic cables as they are more susceptible to extreme weather conditions and general wear and tear.
The Fibre Connect upgrade programme enables eligible customers to get free upgrade to a Fibre to the Premises (FTTP) connection. FTTP is fibre optic cabling that connects your nbn® directly from the nearest fibre access node rather than from your curb (FTTC) or a nearby node (FTTN).
And if you don't upgrade to FTTP, your business won't be able to access higher-speed plans. A limitation of copper is that it's unable to provide the same bandwidth or speeds that fibre can. Whilst copper cables carry data as electricity, fibre optic cabling carries data as light, which travels much faster than electricity.
So, if your business requires a higher-speed plan for video conferencing, data-hungry apps or transferring large files, take advantage of the nbn® business fibre upgrade today that is FREE for eligible customers. We also offer a range of higher-speed business internet plans to suit your business needs.
Over 5 million homes and businesses on FTTN or FTTC across the country are now eligible for a fibre upgrade, with this number set to increase to 8 million later this year. Check your address to see if you your business is eligible for a fibre upgrade today!