What do the changes to the SAU mean for your business?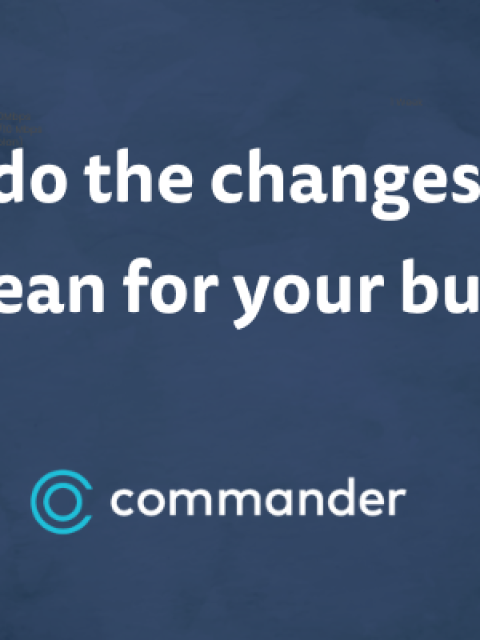 On 17 October 2023, the ACCC granted approval for the proposed amendments to nbn's Special Access Undertaking (SAU). These changes impact all Internet service providers.
What is the SAU? This is the question many of you may be asking. nbn's SAU is a regulatory framework that underpins the operation of the nbn® and how internet providers access the nbn®. One of the overarching goals of the SAU is to improve the broadband (internet) infrastructure around Australia, allowing more Australians to not only access higher speeds and have better connectivity but also to be able to afford to do so. You can learn more about the SAU here.
For businesses, the pandemic accelerated the need for fast, reliable internet and forced many businesses to rapidly adopt digital technologies. As the digital landscape continues to evolve, the SAU remains a critical framework for Australia's broadband future.
What do the changes to the SAU mean for my business?
If your business is on a higher-speed plan, you won't be affected by the changes to the SAU. Our higher-speed plans (100/40 and above) are still at the same low price they've always been and are amongst the most competitive in the market.
Unfortunately, we have had to make the tough decision to increase the prices on our lower-speed plans. We've all felt the impact of rising business costs over the past few years, and we know it's been putting pressure on many businesses.
Until now, we've been able to manage rising costs without having to increase the prices of our plans. However, we can't afford to absorb this latest increase as well. We won't be making this increase until after it's been passed on to us by the nbn, which happens as of 1 December 2023. New plan prices are listed in the table below.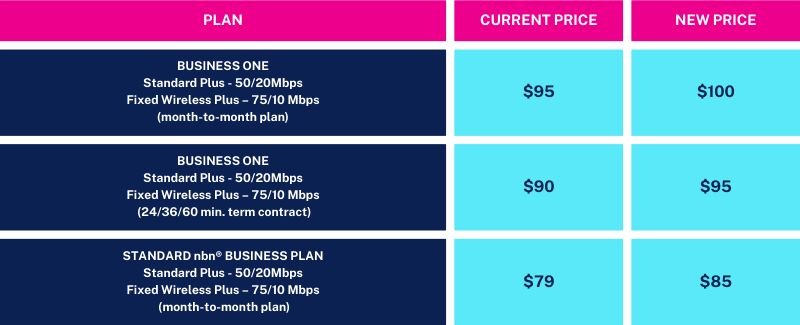 How will the SAU changes benefit businesses?
If you're affected by the current price increase, it's a great time to review your current plan's performance and consider moving to a higher-speed plan. Since the nbn® introduced higher-speed plans, many of our new and existing business customers have taken them up. You can view our range of competitively priced, higher-speed plans on our business nbn® page.
Many customers who have moved to a higher-speed plan have upgraded to fibre. An end-to-end fibre connection enables you to access higher speeds and improves the reliability of your connection by removing the old copper line. You can learn more about upgrading your nbn® connection to fibre and determine if you're eligible on our nbn® fibre upgrade page.
"Businesses were forced to rapidly adopt digital technologies to remain competitive when the pandemic hit. Zoom and Microsoft Teams quickly became part of our vocabulary, and these technologies quickly became critical to our working days.
Many digital technologies require high bandwidth to provide a quality user experience, particularly when multiple users and devices are connected simultaneously," explains Keith Masterton, our General Manager here at Commander.
"The nbn® Fibre Upgrade program is making upgrading to a full-fibre connection affordable, saving businesses thousands of dollars in infrastructure costs as it's free for customers located in areas eligible for the upgrade.
"But speed isn't the only benefit. Reliability is another significant benefit that is often overlooked. Internet performance is critical for SMBs, especially as your business scales up and you need to add more users and devices to your network.
"The price changes to the nbn® SAU does have a positive. It's encouraging SMBs to re-evaluate their current Internet plans, which they might not have otherwise. And let's face it; in our busy lives, we don't usually look at making a change unless there's a cost-saving or obvious benefit to us. There's no question that moving to a higher speed tier and upgrading to a full fibre-to-the-premise connection will help boost the productivity of your business and set you up for future growth on the right infrastructure."
To help you understand what a higher-speed plan can achieve, we've put together a table to help guide you when choosing the right plan for your business. And don't forget, it's not just the number of users you need to consider, but also the number of devices (don't forget your IOT devices).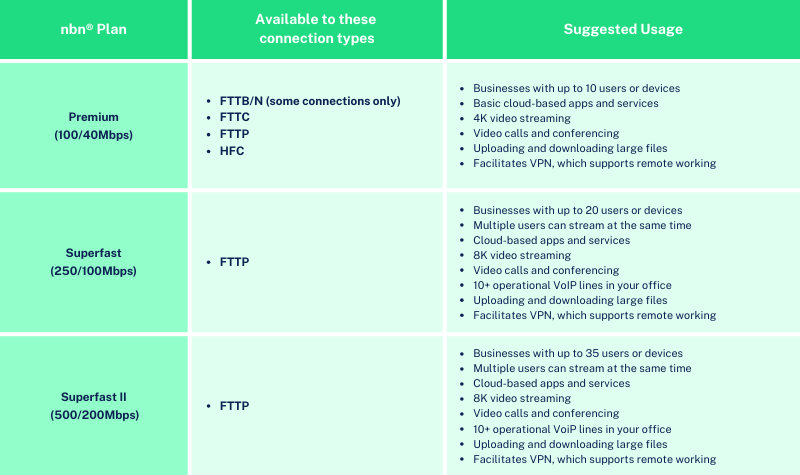 We know that price increases can be challenging, but we are here to make sure you continue to have the best possible experience with your nbn® service and that your business is getting the most out of it.
You can view our business plans by clicking on the button below, or you can contact our team at 1300 871 244 to discuss your options. We look forward to supporting your business.