Why it's time to level up your business internet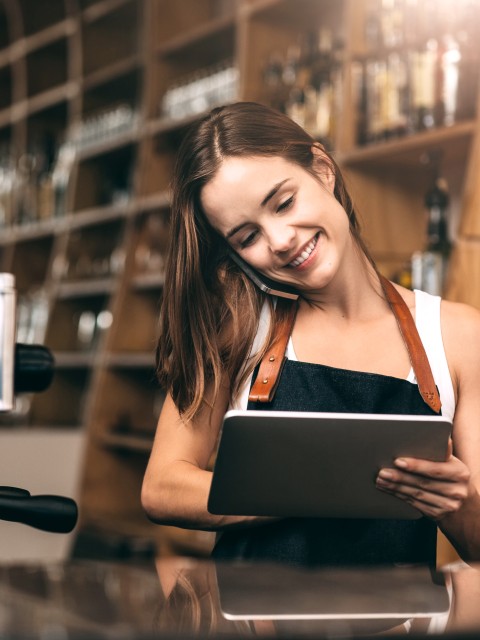 Prepare your business for the future
One of the biggest shifts in business has been the growing reliance on digital connectivity. COVID forced the adoption of digital technology for many businesses. As a result, they need to process large volumes of data to connect, collaborate and compete.
Before COVID, some businesses could get by using a residential internet connection. But with video conferencing, cloud-based apps and large data transfers now the norm, businesses can't afford to rely on a residential broadband connection.
"To be able to optimise business-critical technologies and compete in a modern work environment, businesses need reliable connectivity and lightning-fast speed," says Corinne Fobert, nbn™ Product Manager—Commander.
Whether you're scaling a side hustle or enabling your employees to embrace a hybrid workplace, selecting the right internet connection is critical to your business's success.
What's the difference between home and business broadband?
There are three key differences between home broadband and a business-grade internet connection:
Dynamic vs static IP address
Speed
Support.
Let's start with dynamic vs static IP addresses
An IP address is a unique string of numbers identifying a device on the internet or local network.
When you connect to the internet, your device is assigned a static IP address. This number changes periodically. Most residential broadband customers have a dynamic IP address as they're cost-effective to manage.
By comparison, static IP addresses don't change. This is important if you need external devices or websites to remember the IP address assigned to your device.
Although most households shouldn't need a static IP address, businesses do. Dynamic IP addresses are more prone to drop-outs. Especially during video conferencing or when using other real-time applications over a long period.
The other benefits of a static IP address include the following:
Easy file sharing on network servers
The ability to access peripheral devices
Hosting business websites or email servers.
These are all important requirements for almost every business today.
Speed
Higher-speed plans are available on residential plans. But if you're using cloud-based apps or video conferencing, these plans won't be able to meet the demands of your business.
"Residential plans have speeds ranging from 12/1 to 1000/400 TC4. These will still not meet the needs of most businesses. Businesses often need speeds of up to 1000/1000 Mbps, which are available on Enterprise Ethernet," says Corinne.
For many industries, upload speed is just as important as download speed. Industries that include:
Construction
Health
Retail
Banking and insurance
Media and advertising
Retail
Education.
If this is you, upgrading to an enterprise-grade, all-fibre connection may be the best solution for your business. business nbn™ Enterprise Ethernet offers the following:
Matching upload and download speeds
No consumer congestion as it's on a separate network to consumer nbn™
Reliable connectivity
The fastest speeds available
An affordable, fully scalable enterprise-grade network that is perfect for any size business.
Service and Support
Regardless of the size of your business, downtime is frustrating and can be costly.
While the dollar relating to the risk will vary, the estimated downtime cost for a small business is between $137 - $427 per minute. A 2016 Ponemon Institute study raises that figure to a staggering $9000 per minute for larger businesses.
To help reduce this risk, most business internet packages include priority support and quick fault restoration options. As business specialists, Commander takes that one step further by offering:
4G Backup
Premium support options
Proactive monitoring
Local support centres.
Commander also offers guaranteed service level agreements (SLAs) to ensure quick fault fix times and high levels of support on specific plans. For example, Enterprise Ethernet customers receive 12-hour fault restoration times and 99.95% uptime targets as standard.
"We're committed to your business's success, which means minimising disruptions," says Corinne.
business nbn™ Enterprise Ethernet – enabling the next level of business connectivity
Regardless of turnover or the number of sites or employees, businesses need to level up in 2022 and beyond. Especially when it comes to their business internet connection.
Corinne advises business owners to choose their internet service based on their reliance on the internet and the importance of a reliable, consistent service.
"Every business has different needs," says Corinne. "Does your business use video conferencing, VPNs, cloud-basedapps or data backups? Or do you need to be online 24/7 to compete? If this is the case, Enterprise Ethernet is likely the best solution for you."
Enterprise Ethernet is Commander's affordable, enterprise-grade solution designed to handle mission-critical business applications. The service is on an end-to-end fibre network that is a separate network to the regular nbn™ network. As a result, it provides priority data to business customers and speeds up to almost 1Gbps. Best of all, it's scalable—it can suit the needs of any size business.
"Because Enterprise Ethernet is so robust and reliable, nbn™ guarantees 99.95% uptime targets", says Corinne.
Available nationally—including 85 regional locations—Enterprise Ethernet is the gold standard of internet connections. It's one of, if not THE fastest, most reliable nbn™ connection available on the Australian market today.
Who can access nbn™ business and Enterprise Ethernet plans?
business nbn™ Enterprise Ethernet is now available to 90% of Australian business customers. To access our business internet services, customers must have an active ABN or ACN.
As a bonus, Commander Enterprise Ethernet customers are eligible for up to $1,100 as a welcome credit. They may also qualify for $0 fibre installation costs (subject to a site qualification check).
To find out which business internet service is right for your business, contact your local Commander Centre. You can also contact our team on 13 70 90 or email us.