Lawrence Tan - Commander Centre Perth South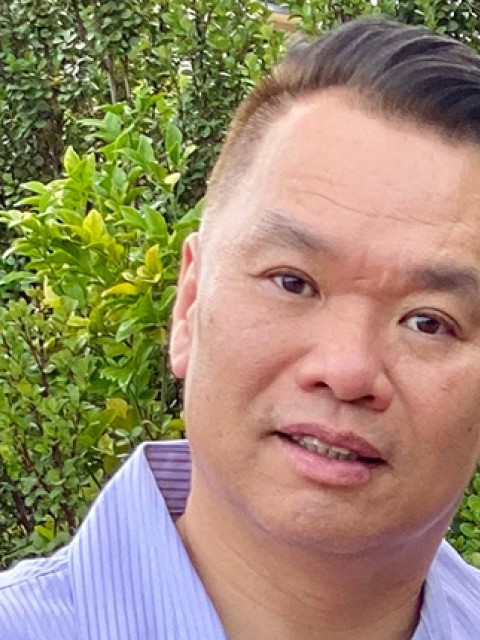 This month, we sit down with Lawrence Tan, Managing Director at Commander Centre Perth South.
With degrees in business and marketing and a decades-long passion for telecommunications, Lawrence is a born advocate for Commander solutions. Among Commander's longest-serving Commander Centre operators, Lawrence proudly claims that after 16 years with the business, he "bleeds blue."
Here, Lawrence chats all things voice solutions, shares why Perth South's local service offering is so valuable and even reveals his tips for cooking the perfect steak!
Tell me a little about Commander Centre Perth South.
I've been with Commander Centre South Perth since 2007, but I've been involved in telecommunications even longer than that. It's become a lifelong passion.
At Commander Centre Perth, we service one of the largest territories of any Commander Centre and offer a highly personalised, local service. No cookie-cutter solutions here!
We offer a comprehensive range of telecommunications solutions, but our passion is helping businesses stay connected via voice solutions. Our offering includes PABX systems (including LG Ericsson and Avaya), nbn™ broadband packages, SIP trunk services and cloud-based PBX systems.
Our Perth showroom is also a real drawcard for customers. They can come in, try different phone handsets and operating systems, chat face-to-face about their needs and meet the people who will be onsite, delivering their solution.
What do you find enjoyable about working exclusively with business customers?
Our customers come from every sector, and I love the variety and challenge that kind of diversity brings to my job. Last week I was visiting a golf course looking to upgrade their legacy phone systems, tomorrow I'll be visiting an existing customer with a state-wide chain of veterinary clinics, and later in the week, I'm with one of our enterprise clients educating their IT team on the intricacies and evolution of voice solutions.
All our staff are locally based, so it's not unusual for us to be onsite helping with set-up, troubleshooting issues, or sharing new telecommunications solutions that will enable our customers to grow.
Our customers see us as an extension of their team, and that's both a responsibility and a joy.
What are the major changes and trends you've seen among customers?
Western Australia had a very different experience of COVID to the rest of the country. We have seen some shift towards hybrid work, but Perth is a boom town, and that means businesses are price sensitive but also eager to take advantage of growth opportunities.
More and more business owners see telecommunications as a competitive advantage and an enabler of growth. I love helping to evolve customers' tech set-ups to keep their operations at the leading edge.
Tech-wise, many businesses have outgrown their current broadband set-up as video conferencing and cloud services become part of the standard operating system. I'm also seeing a strong preference for phone systems capable of working remotely via a desktop app.
What are some of the more common challenges you see with phone systems?
Plenty of businesses are 'making do' with legacy telephone systems and running their VOIP system on ATA. This means the call quality is poor, and the internet is struggling with more and more connected devices and higher data usage.
Downtime is another big challenge. Even if your nbn™ only went down for one hour per month, it likely costs your business tens of thousands of dollars in lost time, productivity and opportunity. Ensuring you have built-in redundancy is a no-brainer, really.
That's why one of my favourite Commander solutions is our 4G mobile backup, and best of all, it's offered FREE to all customers with a Commander modem.
4G mobile backup is exactly what it sounds like: a modem that offers instant 4G connectivity if your primary connection goes down. Essentially, this means that if your nbn™ drops out, a sim-card backup kicks in and all calls are automatically diverted, with no loss of connectivity or productivity.
What do customers value most about Commander Centre South Perth?
Look at our Google Reviews! We have incredible, long-term customers, and we know their businesses intimately, and they know us personally. We spend a lot of time educating our customers on their tech set-up, so they can get the most value out of their solutions.
Our team is always on the road, so if there's a problem, we can send someone out to check the physical setup. It's amazing how often the problem is loose cabling, a disconnected switch, or that settings have been changed. Even heavy rain can impact Fibre to Node internet connections. The ability to have a technician onsite quickly is enormously valuable. Try getting that kind of same-day service from our competitors.
It's these kinds of fundamental issues that we can pick up quickly and easily in person and the type of tailored, premium service that our customers come to love and rely on.
What's the top piece of advice you give to business owners?
Upgrade your internet connection! Faster is better when it comes to the internet, and I believe that a 100/40 connection is the threshold broadband solution for businesses these days. The monthly cost differential from a 50/20 connection is minimal, and when you consider the real dollar impact of downtime, the upgrade pays for itself.
And it's not just about the extra speed (although I've never had a complaint that the internet is running too fast!). Levelling up to a business-grade internet package delivers enhanced reliability and the extra bandwidth to grow.
Growth is a big issue for our customers. Many WA businesses are taking on more staff this year, and more staff means more users and connected devices. If you're building your team, it's important to revisit your tech set-up as part of that growth plan to ensure you remain future fit.
When a business operates with more than 10 staff or has high upload/download requirements, I'd strongly recommend levelling up to Commander's business nbn™ Enterprise Ethernet package. It's an enterprise-grade network dedicated to business data, so you're assured of reliable, lightning-fast service with no consumer congestion.
And when you're not solving telecommunications issues, what do you like to do in your downtime?
I'm a family man. There's nothing better than having the kids, their partners and friends around for a great meal. Tonight, I've got everyone coming to the house, and I'll be doing my famous sirloin steak.
I suppose there's some synchronicity with my job – I'm all about connecting!
Ok, Lawrence, we must ask, what's the secret to cooking the perfect steak?
It's all about heat and resting the meat properly. Start with your steak at room temperature and use charcoal on the grill. It generates more heat than heat beads alone, and that's what gives your meat that perfect, charred crust.
And if you really want to level up your BBQ, dribble a teaspoon of truffle oil over the steak! Luxury!
To find out how Commander Centre Perth South can help your business, you can visit the team at 40 Wickham St, East Perth, WA 6004. Or you can call them on 08 6381 2400.