Get To Know: Michael Sharp - Commander Centre Sydney South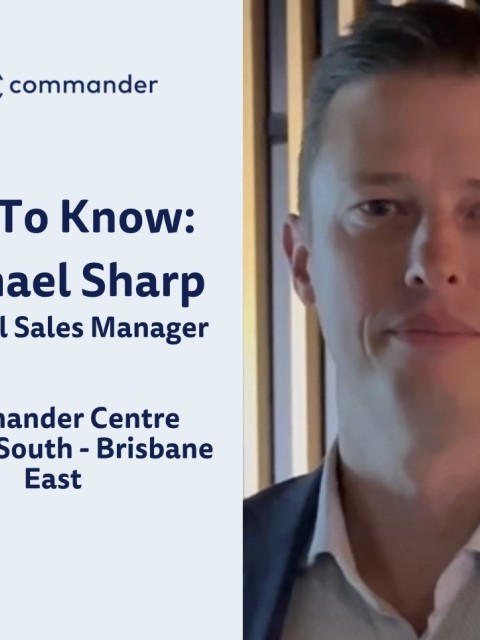 Michael is a seasoned telecommunications professional with over 20 years of experience. He is passionate about helping small businesses succeed and takes great pride in providing Commander customers with the best possible service.
A true leader, Michael is heavily invested in continuous learning and development, always seeking to build his team and their capabilities. Mindset is important to him, with his favourite quote being, "How you do anything is how you do everything".
In our chat, Michael discusses ways to set yourself apart from the competition in your career and how he approaches the leadership of his team.
When did your career in telco begin?
This year marks my 20th anniversary of working in telco. Originally, I started on the phones as an appointment setter, which is an entry-level role, but it's a really good place to learn about how to talk to owners of businesses, directors & CEOs.
It was a great place to start. From there, I moved on to face-to-face sales, which I did for over a decade. I've now progressed into management, which is what I've been doing for the last seven years or so. Right now, I manage a team across different territories in New South Wales and Queensland and oversee their professional development and their performance.
What do you enjoy most about your job and working for the Commander brand?
I work with a very driven group of high achievers who also know how to have fun. When you put a group of people like that together, the energy's contagious. Iron sharpens iron, so we end up with very high results that, individually, these people have never had before in their careers.
The Commander brand opens a lot of doors. The telco industry is always evolving, and a lot of start-ups struggle to establish themselves. Commander has thrived for the last 40 or so years and developed a reliable and trusted brand. This helps us engage new clients but also retain our existing customer base that we manage on a day-to-day basis.
Regarding the level of service, what actions do you and your team take to go above and beyond?
We use the 80/20 rule–we put most of our resources into onboarding the customer at the beginning. We know from experience that if we do the onboarding process well, the customer very rarely has to contact us and has a very smooth experience.
All our customers also get a dedicated project manager, and these guys are literally the best in the business. They oversee all the moving parts, all the way from the application through to the installation, and then give them ongoing customer service from that point on.
Within your own team, how do you maintain a high level of morale?
The number one thing is that we hire the right people to begin with. I've found over time, competent people want to work with other competent people, and they want to know that when they pass the ball to the person next to them, they don't have to think about it-that person's going to handle their side of the job as well. That's key point number one.
The other thing is we give a lot of rewards to our staff. We also do a lot of team building. In September, we're flying our Queensland team down to New South Wales to watch the UFC when it's on here. When you spend time with people outside of their normal work environment, you get to see the other side of their personality, and it adds to that winning culture.
What do you enjoy most about working in the telco industry and, more specifically, with small business owners?
I've always been interested in business and what makes a business successful or unsuccessful. In this job, you get the chance to meet a huge cross-section of business owners. You get the chance to have in-depth conversations about how they run their businesses and the challenges they face.
Our job is to get a clear understanding of the situation. Draw from our experience of meeting other similar businesses and hopefully offer up a solution that helps their business get to the next level. In particular, working with small business owners allows us to have a bit more of a personal approach. Unlike large corporations, decision-making processes can be complex and bureaucratic. When you engage with a small business owner, it's direct line of communication and allows you to build a meaningful relationship, establish trust, and give them a personalised level of support.
What advice would you have for someone hoping to progress in the industry or their career just like you have?
The first thing I'd recommend is to seek out the most successful individual in the business that you're joining- the person who's achieved the kind of goals you aspire to achieve.
If you're in sales, for instance, look for the person who's always ranked number one. Take the initiative to connect with them- pick their brain, learn from their strategies and approaches, really do whatever it takes to understand how they're getting that result.
Secondly, I think that everyone needs to start with the mindset that how you do anything is how you do everything. I find the top performers in our company are also very disciplined in their personal lives, and it correlates.
Thirdly, is treat your job as a profession. It's not just a means to an end. You've got to invest time and effort into honing your own skills, expanding your knowledge, staying up to date with industry trends, and pretty soon, you position yourself as a valuable asset and stand out from the crowd.
In terms of the next five years, what would you like to achieve?
I want to continue to grow our team by adding high-quality staff, but also, I want to help the current staff grow professionally and within our own organisation.
The other thing is over the last few years, a lot of our competitors have actually left the SME market, and we found that created a bit of a vacuum in the industry. So, when it comes to quality advice, there are not that many companies you can turn to now in our field. Technology moves very fast, and we find that business owners still need to turn to someone for advice on which direction to go. I don't see that changing anytime soon. I think we're going to be pretty busy for the foreseeable future.
What do you spend your time doing outside of work?
I'm a family man. I've got two boys, and to be honest, most of my weekends are spent at weekend sports. They play soccer, rugby league and basketball. Apart from that, I love to travel. I try to travel overseas at least a couple of times a year and always have a couple of trips planned, so I've got something to look forward to. And then just eating well and drinking well!
To learn more about Commander Centre Sydney South, you can contact them at 02 8209 4107 or [email protected].