Chris Hindi—Managing Director Commander Centre NSW North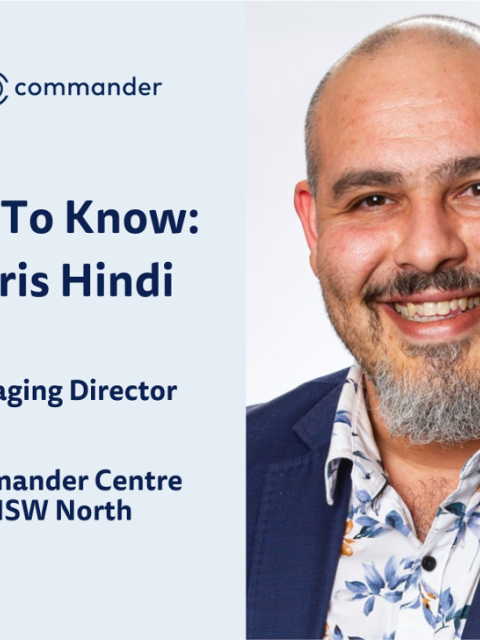 Chris Hindi is a telecommunications sales specialist with an exceptional understanding of the information technology and services industry.
Having worked in the field for almost 20 years, Chris shares the knowledge he has acquired with his team of professionals and customers alike.
It's evident that Chris is passionate not only about the Commander brand but also about supporting and helping people, which he tells us is one of his favourite parts of the job.
An undeniable people person, Chris sees the value in building strong connections with his team, which he describes as having a 'family dynamic'.
During our chat, Chris shares some career advice, what motivates him and what he likes to get up to when he's not managing Commander Centre NSW North. 
When did your career within telecommunications begin?
I've worked in telecommunications my whole life. The first job I ever had was in telco, and my background has always been in sales. I've worked in telco for quite some time – I've worked for Telstra, Optus and other brands in the communications industry.
I've been with Commander for almost 5 years. They were nice enough to give me the opportunity to run my first business centre with them in 2019, and I've been doing this ever since.
What do you enjoy most about your job and working for the Commander brand?
I love being in the role that I'm in because I get to run my own race, and I have a say in a lot of the moving parts.
I put an emphasis on ensuring we provide outstanding customer service; it's one of the things we really pride ourselves on. I believe the differentiator between ourselves and a lot of other brands is the high level of customer service and support we provide. We really do go above and beyond, and all my staff are awesome. I'm so thankful for them.
Commander as a company provides a lot of support. The value of the products they sell is fantastic, and they are very fairly priced, which makes it easier for us as we're very competitive in the market regarding pricing.
Being owned by the Vocus group is also a huge benefit—their network is rock solid. We never have any issues with telephone lines which makes it so much easier to sell these products.
Regarding the level of service, what actions do you and your team take to go above and beyond?
Communication is key! We're highly effective in communicating with our customers whether there is a minor issue or a much larger problem. We are constantly in contact with our customers and are aware of any current problems.
We provide free remote service and support to customers who are signed up directly with us, which encourages customers to not only renew their contracts but also enables us to reassure our customers that they will be looked after. They won't be handed over to an offshore call centre that doesn't understand their situation or know how to provide an accurate solution.
We really get to know our customers on a one-on-one level. My customers have my mobile number and can call me directly if needed. They don't normally need to do this as my staff deal with things very well. But, if the customer wants to escalate things, they can contact me directly. They know me by name.
Being in a regional area, the relationships we build tend to be more thorough, and there tends to be more volume to them. Everyone knows everyone around here, and we like to maintain that close-knit community feel. We love where we are and wouldn't change it for the world.
As owner and managing director, how do you maintain a high level of morale within the team?
We've always had a very strong culture; great culture is key in the workplace, and I've always said it's one of the things I pride myself on.
We're constantly having lunch together, and we're all really close. I would now classify most of the people who work in my team as family friends. I know their parents; we have BBQs together and are all very close—it's grown into a family.
And of course, we like to have drinks together after work too. We reward our staff, we have flexible working days and the option to work from home when they need to. Many of my team have kids, so if they have a personal issue, we are always flexible in terms of accommodating that.
I think the most important thing is culture, and culture is what you make it. Working closely with your staff and taking into consideration their family needs and how they operate at home is essential.
My staff always put in a lot of effort, so it comes full circle. Occasionally, they might need to take a phone call from a customer after hours, and they do so because we offer flexibility in the workplace.
What do you enjoy most about working in the telecommunications industry and, more specifically, with small business owners?
I love the challenging aspect of it. Obviously, technology is rapidly changing, and customers and their requirements are rapidly changing, too. So it's always good to be on top of this by learning new things.
I love the relationships it allows me to build in the community, getting to know people that you see every day in Coles and Woolies. It's not until you get to meet them and actually speak to them and get to know their business that you really know these people. It's building these strong, long-lasting relationships within the community that makes sales and telco a great industry to work in.
I like the fact that the people I'm dealing with are people like me. Small business owners are very in tune with the world. When you're in a big corporate organisation, it's really easy to get lost in the similarities we have as humans. So dealing with small businesses brings me back to the reality that we're all the same. We all struggle with the same things. When I was struggling through COVID, so were they. We're all in the same boat and doing the same thing.
What advice would you give someone hoping to progress in the industry or their career, just as you have?
Hard work pays off! It doesn't matter how unnoticed you go; there is a light at the end of the tunnel. Set your own goals and achieve those goals. Anything is possible, and I am very thankful for the position I'm in. If it can happen to me, it can happen to anybody. If I can own and manage a business with a team working for me, it can happen to anyone.
In terms of the next 5 years, what would you like to achieve?
My wife asks me the 5-year question, but I always think about the now and never think too far ahead. I don't particularly have a 5-year plan because, as I've learnt from first-hand experience, things can change quickly. But I hope to be in the same position I am in now. I hope to grow my team and expand the territories I cover. That is what I aim for – to continue being as successful as I have been over the last 5 years.
Outside of work, what do you spend your time doing?
I have 2 kids, and I love spending time with them, taking them to the beach, and swimming with them. I love hanging out with friends and socialising - playing poker and drinking scotch or tequila.
To learn more about the Commander Centre NSW North, visit www.commandercoast.com.au, or you can contact Chris directly at 0473 877 832 or [email protected].