5 Reasons Your Business Needs a Modem with Wi-Fi 6 Technology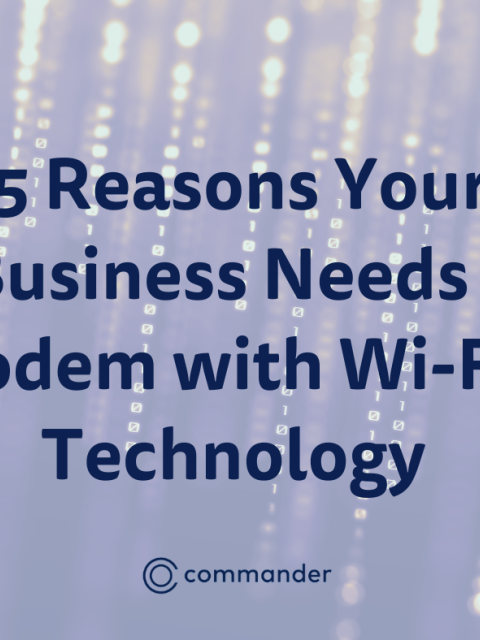 In today's world of fast-paced connectivity, understanding how new technology can benefit your business is critical. Slow network speeds can impact productivity and disrupt communication, ultimately impacting your bottom line.
That's why we are excited to introduce our new business modem: the TP-Link VX420. Equipped with the latest Wi-Fi 6 technology, the TP-Link VX420 provides faster speeds and increased capacity to elevate your online experience.
What is Wi-Fi 6?
Wi-Fi 6 (also known as 802.11ax) is the latest generation of wireless networking technology. It builds on the foundations of its predecessor, Wi-Fi 5 but offers substantial upgrades in speed, capacity, efficiency, and security.
5 Reasons Your Business Needs Wi-Fi 6:
Enhanced Speeds: In today's connected world, businesses rely heavily on cloud-based applications that are bandwidth-heavy. Wi-Fi 6-enabled devices offer much faster speeds than their Wi-Fi 5 counterparts. This means substantially faster data transfers, enabling quicker access to critical information, seamless file transfers, and smoother video streaming across multiple employees or customers. It's quick and capable.

Improved Efficiency: Wi-Fi 6 lets you work smarter, not harder. For example, you can minimise network congestion with the Target Wake Time (TWT) feature. TWT allows devices to schedule their data transmissions, resulting in lower power usage and longer battery life for wireless devices. So, instead of trying to connect devices multiple times in a very short period, you can set them to wake and transmit less often while maintaining a connection when needed. This is particularly beneficial for businesses relying heavily on mobile devices like smartphones and tablets.

Lower Latency: With online collaboration and video conferencing, lower latency is essential for modern businesses. Lower latency helps to improve load times and helps reduce disconnections. For businesses, this helps eliminate lagging in video calls to provide a seamless video call experience when meeting with clients or employees, for example. Whether you're managing bandwidth-intensive applications or supporting multiple devices simultaneously, Wi-Fi 6-enabled devices can handle the demands of a thriving small business. This is particularly beneficial for businesses relying heavily on mobile devices like smartphones and tablets.

The Latest Security Protocols: With the latest security measures included, Wi-Fi 6 offers stronger encryption and authentication than Wi-Fi 5, offering your business greater protection against potential breaches. You can trust that your sensitive information is kept safer behind Wi-Fi 6 technology.

Capacity and Futureproofing: With technology developing at warp speed, investing in Wi-FI 6 technology can set your business up for success in the long term. Wi-Fi 6 is not just about faster speeds on individual devices but also being able to add multiple devices without slowing down the network. It can handle multiple devices simultaneously without impacting Wi-Fi speeds. This is important for businesses as they scale. A robust network infrastructure will stand you in good stead to adapt to emerging business needs and growth, especially as more devices become Wi-Fi 6 compatible.
Do you want the speed and convenience of a Wi-Fi 6-enabled device?
Commander is proud to introduce the TP-Link VX420 Modem.
This modem was built to improve the customer experience and will help to bolster your internet connectivity. Its upgraded chipset, 4G backup capability and Wi-Fi 6 technology work hand in hand to ensure seamless online interactions, optimised productivity and enhanced network reliability. This modem will help keep your business running at full throttle.
With the Commander business modem, you can unlock faster Wi-Fi speeds, improved reliability and the peace of mind that comes with our 4G Backup service—and we've included it for FREE on eligible nbn® plans. Make the switch today.