Offer Details 
We know how important time is to your business, so by having all your services with us, we'll not only save you time but money too!
We'll look after all your phone, internet and mobile services under the one roof, giving you only the one number to call.
Plus you'll get $5/mth off every one of these eligible services when you add electricity*.
That's a minimum saving of $60/yr! The more services you add, the more you save, so switch to Commander today.
How you can save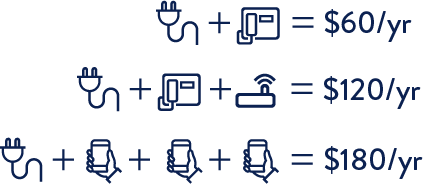 Why bundle with Commander?
ADSL
300GB Data
Unlimited Data
NBN
300GB Data
300GB Data + Speed Upgrade
Unlimited Data
Unlimited Data + Speed Upgrade
ADSL & NBN Bundles
Total Office Bundle
Total Office Bundle + Speed Upgrade
PSTN & NBN Voice
Business Line Connect
Business Line Calling
Business Line Premium
Commander Phone
Commander Phone Essentials
Commander Phone Office
Commander Phone Executive
Commander Softphone
Commander Key Phone
Commander Key Phone Essentials
Commander Key Phone Office
Commander Key Phone Executive
SIP
SIP Connect*
SIP Calling*
SIP Premium*
*excludes 60 month plans